PHONE
TODAY


FREE
CONFIDENTIAL
ASSESSMENT & ADVICE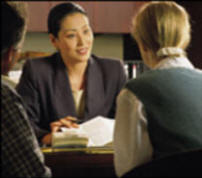 1300 736 136
toll free Australia wide
---
As seen on TV
click
►
to play video
RDA negotiate with your creditors
to reduce all of your debts
into one simple monthly payment

---
RDA is a Govt. Registered Debt Agreement Administrator
Australian Financial Security Authority
Peter Dunlop License #1159

---
Tools , Links & Info
---
---
Case study: from a debt administrators case file

(from article published by Choice Magazine Debt Agreement vs Bankruptcy)

Tara has three credit cards with a total debt of about $70,000. She also has one car loan and another joint car loan with her spouse. These loans are secured and not covered by the debt agreement. Tara will pay about $49,000 in total, which includes roughly $36,500 to her creditors, a $1,650 government charge and $10,580 set-up and administration fees to the debt administrator.

*note: RDA's comparison fee for this agreement would have been $6,600.



The agreement goes over three years and states she'll pay back $265 per week in the first year, then increase the payments to $320 per week once one of the car loans will be finalised.

The weekly payments need to be covered by the money left over after Tara and her spouse pay for their weekly expenses, which include $320 for rent, $235 for food and money for car loan repayments. They could have trouble finding money for extras such as school excursions or takeaway meals.

The couple will have to budget in order to keep to the agreement, if Tara defaults on the repayments she could be forced into bankruptcy.
<return to top of page>
---
If you are considering re-finance as a debt solution, then it is critical that you obtain and be aware of your personal credit history.
Download, print and complete
this form
. Fax the form to (02) 9278 7333 - or post it to: PO Box 964, NORTH SYDNEY 2059.
A 10 Day reply is Free - 24hr response costs approx $30.
<return to top of page>
---
---
<return to top of page>