PHONE
TODAY


FREE
CONFIDENTIAL
ASSESSMENT & ADVICE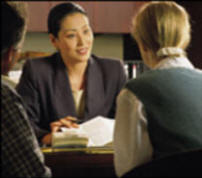 1300 736 136
toll free Australia wide
---
As seen on TV
click
►
to play video
RDA negotiate with your creditors
to reduce all of your debts
into one simple monthly payment

---
RDA is a Govt. Registered Debt Agreement Administrator
Australian Financial Security Authority
Peter Dunlop License #1159

---
About Us
---
Established in 1982, RDA CreditFIX specialises in helping people formulate Debt Agreements and other solutions to manage their debt, without resorting to Bankruptcy.

Our dedicated team of consultants have successfully managed and concluded several thousand client administrations. From personal debts to sole-traders and small business to complete company arrangements,
our team's skills and expertise ensure a solution tailored to your individual needs.

---
RDA has successfully acted for many individuals and small businesses. These testimonials are a
small insight into how we've helped these people turn their lives around...
"Because of RDA we didn't loose our family home and our lives are so peaceful now. We have never felt so relived."
EB & SB, Deception Bay

"Once again, thank you for making our life that much easier. I'm not hounded by everyone for money anymore." C.R., Mt Gravatt


"My life was a real mess and thanks to RDA I didn't end up bankrupt and they've helped take the huge burden of worry away from me." P.G., Geraldton

"It is a refreshing change to call an organisation and consistently find a level of service that I was beginning to believe no longer existed." TR, Brisbane

"
Thank you for all your help and guidance over the past few months with getting our finances on order. It was so greatly appreciated." J&L Miller

"I would like to take this opportunity to thank you for your help and support regarding the loan application. It was a very nerve racking and stressful time for me and I didn't think that the light at the end of the tunnel would ever shine!" L Pizzuto

"It is very rare for someone in my financial situation to be treated in a way that is so friendly, helpful and non-intimidating." RT, Cairns

---
RDA CreditFIX Australia Pty Ltd


National Head Office

PO Box 614, BEENLEIGH 4207

Ph: 1300 736 136